Waianae Mall will change for the better after A&B Properties, Inc. redevelops the mall. David Haverly, representing the Alexander & Baldwin real estate company, spoke at the recent Waianae Neighborhood Board meeting on March 5, 2013. He reported that A&B intends to revitalize the facilities and provide opportunities for new tenants. The first year will be spent planning the renovations. Within six to eight months, they will upgrade the parking lot, fix lighting, and create a new sign design. A&B intends to continue community events at the mall and provide a meeting place for the community. Their plans include building a structure similar to the center stage in the Ala Moana Center. They hope to garner community interest by celebrating the mall's 40-year anniversary.  A&B also will seek a good mix of stores to discourage people from traveling out of Waianae to Kapolei to shop.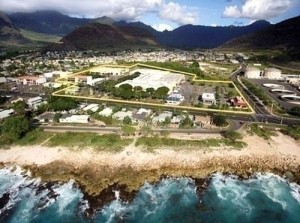 After his presentation, Haverly heard various suggestions from board members and community figures. They discussed these topics:
Repainting the mall.

Tree roots under the parking lot pavement.
Flooding between American Savings Bank and Tesoro gas station.
No left turn lane onto the highway from Burger King.
Long's Drug sign placement.
Zippy's, Down to Earth restaurants.
Mall clock.
Youth community center.
Stairwell connecting mall to the Waianae Bus Transit Center.
Spaces reserved for small businesses and leased at a reduced cost.
Mall restroom expansion.
Providing large parking stalls for bigger vehicles.
The public can provide more suggestions and voice their concerns at this email: [email protected].