Tucked in the back of a recycling spot in Nanakuli, A&P Payless Auto Parts and Fishing Supplies is a favorite shop for many on the Waianae Coast. Proprietor Gary Wong welcomes his customers who come from all walks of life. Because his store faces Farrington Highway, drivers find it convenient to stop by, and many fishermen on the way to the beaches find it convenient to purchase fishing supplies, equipment, and fresh bait. Wong, born and raised in Nanakuli, appreciates his customers who live in his community and totally understands their personal problems with car repair and fishing equipment. Wong says, "I regard customer service as my number one priority during my 35 years in this store. Not only do I give advice and suggestions for car repair, but I can also determine whether the customer is a capable do-it-yourself guy or not. I can refer customers to qualified repairmen if they need help." His motto is "keep prices down and make purchases affordable."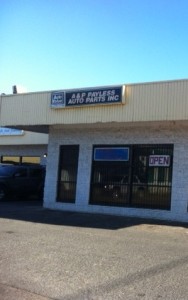 Wong started his business after working there for the original proprietor, Arnie Westburg, who opened the store in 1979. After working there as an employee, Wong took over the shop in 2006. His business specializes in "high end" quality auto products for his buyers. He says, "I make it a point to give immediate service when ordering automobile parts and when fish are biting." His store is open seven days a week at 9 A.M.
A day in Wong's store has brought a few surprises. Wong shared a story about an ulua pole, used for catching jack crevalle fish, which he had donated to a Kamehameha Schools senior class auction: "A customer entered my shop to buy a reel for his pole. When he showed his pole to me, I couldn't believe it was the same pole I had donated to the school!" It had left only to return.
A&P Payless Auto Parts and Fishing Supplies
87-1784 Farrington Highway
Waianae, HI  96792
(808) 668-7229