Thinking of Christmas makes me smile.  Most of all, I recall the Charlie Brown Christmas trees that my mother would bring home each year.  They were straggly looking but still so very precious after we decorated it with shiny colored balls and a silver garland.
Came home one day, saw candy wrappers strewn around the floor beneath the tree and couldn't find the red and white striped candy canes that hung on the lower branches.  My pet dog, Airplane, runs up to greet me with silver tinsel hanging from her ears and nose!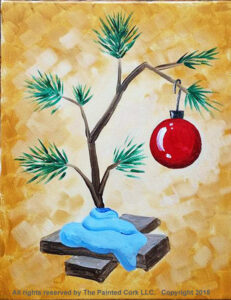 After I moved to the city and settled into a small apartment, I yearned for a tree, but it wouldn't fit  in my crowded home, so I ended up with a potted pre-decorated pine tree about eight inches tall on my dining room table.  I was satisfied with this kind of tree for a couple years but found them quite cheerless and boring.  I then decided to look for a Douglas fir pine tree about two or three feet high, and went rummaging through the local market parking lot.  Disappointed that there were none to be seen, I begged the lot attendant for help.  After he also found none to my liking, I spotted a 12-footer with a gorgeous crowned top, and an idea flashed before my eyes – could he saw the top off  and sell it as a tiny tree?  He hesitated but not for long.  Yes, he would, and at no charge!  I smiled all the way home with a little tree tucked in the back seat of my car.
One year on the last day of school before Christmas vacation would start, each home room was asked to participate in a Christmas program assembly. My class decided to do a pantomime with the song "Grandma Got Run over by a Reindeer."  Despite my reluctance about throwing an old lady under a reindeer, I agreed.  Grandma went onstage with a white mop head, glasses, and a long muumuu; the reindeer entered with koa branch antlers and four legs of two students under a brown cover.  The student body roared with laughter, and so did I.