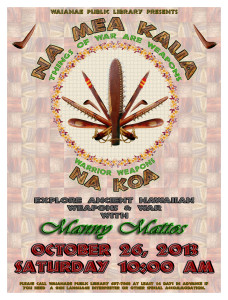 Greetings from Waianae Public Library,
Waianae Public Library would like to publicize the first of two upcoming program to be held at Waianae Public Library. The first one will be held on Saturday, October 26, at 10 AM. This program is entitled "Na Mea Kaua, Na Koa," and is a presentation by Mr. Manny Mattos on ancient Hawaiian weapons and warfare. Mr. Mattos is an expert in the construction of ancient Hawaiian weapons, including shark-tooth edged weapons, and he is involved in the preservation of Hawaii's endangered hardwood forests. The first program will concentrate on the weapons and ancient way of war themselves.
A second program will be held at Waianae Public Library in November. It will concentrate on Hawaiian hardwoods and other natural materials used in their ancient Hawaiian crafts and technology and recognize present efforts to preserve endangered resources. When Mr. Mattos presented this material in several previous programs at Kapolei Public Library, many of the enthusiastic comments received from patrons came from Waianae residents who asked for more of this type of programming for their community.
Please direct any inquiries regarding this event to me, Casey Jones, at Kapolei Public Library.
Aloha,
Casey
casey.jones@librarieshawaii.org
Adult Nonfiction Librarian
Kapolei Public Library
1020 Manawai Street
Kapolei, Hawaii 96707
808.693.7050