Kapolei Private School collects 8,821 pounds of food to benefit the Hawaii Food Bank 
While many people were busy today with day-before Thanksgiving meal preparations, the students and teachers at Island Pacific Academy (IPA) were busy finishing an annual project: loading up donations to take to the Hawaii Food Bank. IPA proved once again that school size is definitely nota factor affecting the amount of food that can be collected. The total weight of IPA's donation this year came in at more than 4 tons, a whopping 8,821 pounds.
The IPA food drive is conducted every November by the IPA Student Government. Humanities teacher, Ben Murphy, organizes and runs the effort each year. "It was great to see food still coming in this morning," said Murphy. "It worked out to 16.99 pounds per student — our highest ever. Our 8,821 pounds is also our second-highest total ever. It says so much about our school despite our size."
Loading and transporting that much food requires a system. Students formed a human chain to move the mountain of food displayed on the school stage to waiting vehicles. Parent volunteer Mike Axelrod gave instructions to the eager students loading the school's bus so that no space was wasted. "It needed to be packed like a grocery bag with heavy items on the bottom, lighter things on the top," Axelrod explained. "The students needed to remember to leave at least one seat open for Mr. Murphy." A number of additional vehicles and minivans were also filled and become a caravan from Kapolei to downtown.
Lisa Bendall was one of the IPA teachers who drove to the Food Bank. "I was the first one to arrive," she said. "When Food Bank staff saw how many cars full of food came in behind me and then the bus, they were just amazed. They kept saying 'thank you' over and over and just couldn't believe how a small school like ours could collect so much food."
Head of School Dr. Benjamin Feinstein explained that the success of the Food Drive is a reflection of the entire IPA community. "We're approaching our tenth year and we're maturing," said Feinstein. "We started the year with a new slogan of 'One Community, One Commitment' because we really wanted everyone—students, parents, teachers, staff—to know and feel we are 'One Community' here at IPA working together for the same purpose. The food drive involved everyone at the school and when our community works together to achieve something we can do great things."
# # #
About Island Pacific Academy
Founded in 2004, Island Pacific Academy (IPA) is an independent, non-profit, non-sectarian, college preparatory co-educational school in the heart of Kapolei. IPA is an International Baccalaureate (IB) school accredited by the Western Association of Schools and Colleges (WASC) and the Hawaii Association of Independent Schools (HAIS). The Class of 2010 was the first graduating class at IPA and the school now has four classes of graduates attending colleges and universities across the country and around the world.
If you would like more information about Island Pacific Academy, wish to schedule an interview with Head of School Dr. Benjamin Feinstein, Mr. Ben Murphy, or need directions to campus, please contact Bernie Axelrod at (808) 674-3525 or email Bernie at [email protected]
PHOTO AND ID INFORMATION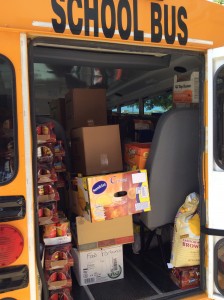 Students on stage with food: Bailey Dean, Jessica Merriman, Jennifer Borzilleri, Zarina Araki, Robyn Cabuslay, Colton Okimoto, Warren Andrade (teacher).
Loading Bus and Vehicles: various students, boys near the bus are (red shirt) Kody Yoffee, Cobie Barnes, in bus Kailiohu Kila.
Bus full of food
IPA Staff at the Food Bank (L-R): Greg Terhune, Mike Axelrod (volunteer), Ben Murphy, Lisa Bendall, Kori Shlachter
Bernadette "Bernie" Axelrod
Director of Advancement
Island Pacific Academy
909 Haumea St.
Kapolei, HI  96707
[email protected]
(808) 674-3523 x520
(808) 674-3575 fax
www.ipahawaii.org